[Plot]
In this world, there exist strange creatures who have the power to grant one wish to a chosen girl. However, in exchange, that girl must then become a magical girl and use her powers to fight against witches and evil creatures born from darkness that are responsible for murders and suicides.
In the city of Mitakihara, a schoolgirl named Madoka Kaname and her friend Sayaka Miki are approached by a familiar named Kyubey, who offers to grant each of them one wish in return for making each of them a magical girl. Another magical girl named Homura Akemi tries to prevent Madoka from making such a deal, while Kyubey urges Madoka by telling her she will become the most powerful magical girl. However, contrary to the glamorous notions one would expect, a magical girl finds herself dealing with death, isolation, loss of humanity, agony over the value of her wish, and existential crisis. Madoka, following her friends, soon sees the darker side of being a magical girl, and because of knowing the truth about being a magical girl, she questions if she should become one as well.
[Characters]
[In Order From Closest To Farthest]
Madoka Kaname
Madoka is a 14-year-old girl that comes from a loving family. Her life changes when she encounters the magical girl Homura and the familiar Kyubey, who offers to transform her into a magical girl. She sees herself as a person without special qualities or talents, and after seeing Mami fighting against witches, aspires to become a magical girl like her. She is a kind and gentle person that is adverse to fighting. She hopes that the magical girls will support each other, sometimes even putting her own life at risk to help them.
Homura Akemi
Homura is a magical girl who first appears in an apocalyptic nightmare of Madoka's. She transfers into her school the day after the dream. She is a beautiful, mysterious individual that performs exceptionally well in academics and athletics. This makes her instantly popular even though she is cold to others.
Mami Tomoe
Mami is a veteran magical girl and a third-year student at Madoka's school. She lives alone in a penthouse after the death of her parents in a car accident, one which she was able to survive only due to contracting with Kyubey to save her own life. Her magical abilities include being able to produce nearly infinite amounts of Tanegashima-like flintlock rifles, yellow ribbons to suspend her enemies, and healing magic.
Sayaka Miki
Sayaka is Madoka's classmate and best friend. She is a lively tomboy with strong ideals of love and lawfulness. After helping Madoka rescue Kyubey, she contracts with him to grant her wish to heal the wounded hand of Kyōsuke Kamijo, a young violinist that she is infatuated with and visits daily in the hospital. Sayaka insists that her wish is selfless and feels that fighting witches to save people is a bonus. As Sayaka's ideals are put against the reality of her wish's consequences and the stress of fighting, her view of the world is slowly corrupted.

Kyōko Sakura

Kyōko is a veteran magical girl who comes to the city to challenge Sayaka for the right to the city's territory. Her distinguishing features include long red hair, twin fangs and a voracious appetite, almost never being seen without food. She came from a poor church family and used her wish so that people would listen to her father's preaching; when her father learned of this, however, he went mad and killed everyone in his family aside from Kyōko. As such, Kyōko decided only to use her magic for herself from this point on, since using it for others will only cause despair. Having grown up in a poor family, she often has to steal food and hates people who waste it, a logic she also applies to Grief Seeds, as she only goes after fully grown witches.
Kyubey
Kyubey is the "mascot" that in a usual Magical Girl anime would be there to both form a contract with the girls and turn them into Magical Girl's and provide exposition about supernatural things. And in this show for the longest time he seems to be just that, albeit with a mysterious air about him. However around episode 6 or so, he clearly becomes a form of a villain. Not the main, or even secondary villain, (he actually never even fights with the girls directly) he just becomes the character that everyone hates for one reason or another. And without going into too much detail, he does the "evil" things he does because he believes it's for the benefit for the universe as a whole. This is, plain and simple, a fantastic kind of villain. Not the kind that is evil because he wants to take over the world (OF COURSE!), but because he believes what he is doing is the right thing to do. And if the creators pull this off correctly then you should be able to empathize with them, as you can with Kyubey. That and his red soulless eyes by far make him my favorite character; or maybe it's just because I'm evil.
[Review Begins Here]
As explained in (what else) the above explanation, Madoka Magica is a much more dark and gritty look on the Magical Girl Genre. Presumably Shaft's next project is to remake Dora The Explorer into an action thriller. And you know what? It really works. A lot of people call what Madoka did for Magical Girl shows, what Evangelion did for Robot shows. I know this because I couldn't find one solitary review that didn't say that, so hey why fix what isn't broken I suppose.
Now this series is really great and it's incredibly hard to review without giving away spoilers, because there are plot twists that occur in the 3rd episode for crying out loud! But I'll be honest, the thing that hooked me on the show, right from the very start was not the characters, plot, story, or even the thousands of people on the internet calling it a God send. What hooked me in the very first episode and made me want to watch more was the absolutely beautiful animation. And not just the animation in general, because while the everyday backgrounds are gorgeous and wonderfully drawn, the best part of the animation comes when the Puella Magi are fighting the witches. (Watch the first episode, I promise it will make sense then.) In Madoka the big bad guys are called Witches, things that will basically brainwash people into committing suicide if the Magical Girls don't stop them. The Witch's have this magical "shield" around them that prevents normal people from seeing them, and when Madoka and co. enter this "shield", things take a right turn up crazy street animation wise. So instead of describing it for you, here's a few pictures.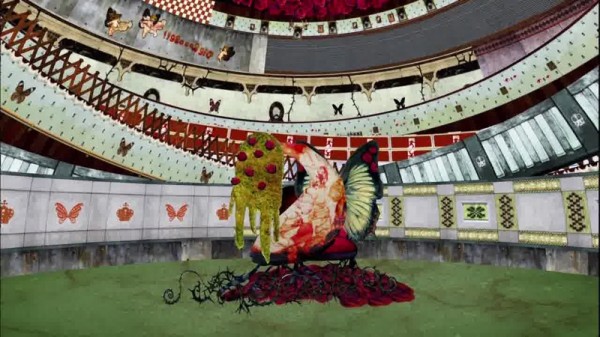 Now, another thing about the animation, is the character models. The character models for this show are ungodly dull. But I believe that's intentional, just look at the animation in the photos above, if they wanted to give the characters a better model, don't you think they would have done it? I think they made the models so generic because they would clash against the backgrounds that look like they were painted by God. I'm not sure if I like the idea of sabotaging yourself to make your other things look better, but it works I suppose.
O.K. so you may ask " So how's the Op?" Well if you stop talking to your computer I can tell you. Madoka's Op is fantastic. For me the part that really sells it is the song, "Connect" which has a really nice beat. Of course the animation is really good as well, but I like it most during the middle of the song. All of a sudden the Op changes art styles for no particular reason, and it's awesome. Just the sudden tonal shift, as well as the song picking up pace, makes that a really enjoyable scene, even if it only lasts for 10 seconds.
So I guess I might be going into slight spoilers here, but Madoka doesn't actually transform into a magical girl until very late in the series. An interesting move on SHAFT's part, but it's a move I can get behind. Let's say she transformed into a magical girl in the first or second episode. Then what would the series be about? Her adventures as a magical girl, à la "Sailor Moon"? I think it was a much better decision on the creators part to have the series be about watching her friends become magical girls and watching as the consequences of their choices unfold around them.
This aired on Good Friday btw. Thanks SHAFT, didn't quite catch the ungodly amount of…                                                                                                 SYMBOLISM! OMG!!!WTF?!?! MAGICAL!!!!!
At this point in the review, I can't think of anything else to say about the show without going into spoilers, so I suppose that just leaves one last question. "Does it live up to all the hype surrounding it"? I would say yes. This is a fantastic series that hooked me in so well that I went from Episode 1 to 12 in about 9 hours. Keep in mind I had to eat dinner, take a shower, and I also had a friend over, but if I had been able to, I would have marathon'd it. So that being said I suppose the only thing left to say is this. You can email in recommend anime for future reviews, by mailing your suggestion to webmaster@ultimateotaku.com.
[Next Week: The Familiar Of Zero]
One more thing, go back and see how many times I used the word God in this review. Hmm I wonder why that is?
EDIT: Sorry guys, had so much going on today, nearly forgot to post this. Hope this makes up for the wait.