So, thanks to my last review and my last Top Ten, I think it's been well established that I'm just doing whatever he hell I want. So, your either gonna sit tight and enjoy it, or get outta my store, we don't take kindly to your kind. (Well, y'know, except that this website isn't mine, it's Syyiailea's, but if your really gonna get prejudice about what I post, then go watch his reviews instead.)
ANYWAY, so thanks to the glory of the new shows Motorcity, and Ultimate Spiderman, it seems like Disney is finally starting to pull themselves outta the gutter, and return to their former glory. And just last Friday, another new show came out called Gravity Falls. I was curious about this show, because basically this show took the premise of The Secret Saturdays, knew how stupid it was, and played it for comedy justly. Also, the animation style intrigued me, with it being animated with hand drawn (Well, if you call using a tablet hand drawn) cells, yet having the art style of a Flash animated cartoon. Also, with two new action shows out that rule, I was wondering if Disney was gonna get their act together in the comedy department. Sure, they have Phineas and Ferb, but c'mon, you know it, I know it, everyone knows it, nobody could give a rats ass about weather Candice is gonna bust her brothers, or whatever, we all only watch it when nothing else is on, and only for Perry the Platypus. So, now we have Gravity Falls.
The story, from what I can tell, is fairly simple. Over the summer, two twins, Mable and Dipper, go to their Uncle Stan's house, where he has them go on crazy urban legend fighting adventures.
Now, for the characters,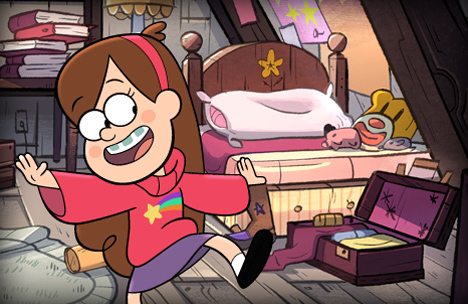 Mable is cheery, optimistic, silly, random, and according to her character profile on the website, "Has knitting skills that would put any Grandma to shame." She always see's the bright side of any situation, and treats everything like a joke. Also, she's the cutest damn thing I've ever seen. Cuter then a Boston Terrier. Except when they get at their cutest, because when Boston Terriers get at their cutest, they fart. I remember I'll be petting my Boston Terrier, Sophie, and I'll be all like, "Awww…Sophie…AW! SOPHIE!!!! WHY WOULD YOU DO THAT???? D: "But Mable never farts. She always stays cute. What were we talking about again?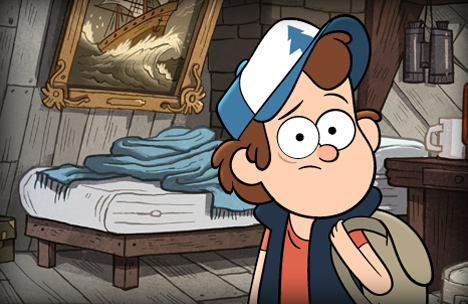 Dipper is the most level headed of the group. He always plans ahead, and seems to want to do whatever he can to stay away from the stupid people trope of horror. You know, the big breasted girl who can't act that runs upstairs instead of out the door. It's insulting. However, he's still a kid and still acts like one. He also seeks ADVENTURE!!!! So, he's kind of like what you would get if you mixed Finn the Human Boy with Lisa Simpson.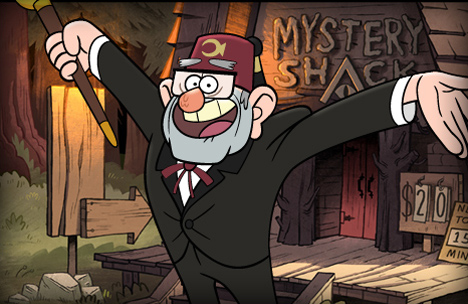 Uncle Stan is cheap, irresponsible, and curmudgeonly, and while he does secretly care, he hates showing it. He's kind of selfish too, BUT HAS A HEART OF GOLD! C:
Now, I know your thinking these characters are kind of Stereotypical, but here's some Writing 101 from me to you, THERE IS NO SUCH THING AS COMPLETELY ORIGINAL CHARACTERS ANYMORE. All writers know that, instead of trying to avoid stereotypes and ending up with an inconsistent, unlikeable character, they pick a trope they want, and develop them so that the audience sees them as more of a character then a stereotype. So, shut up. This is the first episode. There is not going to be deep character development in the first episode.
Now onto the humor. This show, is freaking hilarious.It seems to capture what I always thought was the true essence of comedy, that being putting fun characters in certain situations, so that their reactions come from how they are and feels natural, instead of just having characters doing "funny" things. For example, do Phineas and Ferb have any character traits? ANY? All I can think of is that they're both geniuses, and Ferb says one line every episode. That's it. So the writers just make them do funny things, and no one cares. In this show, however, you have fun characters with colorful personalities in fun situations, and thus the comedy feels natural, and is absolutely hilarious. I wouldn't DARE spoil it for you, but just take my word for it, this is one of the funniest shows out right now, right next to Adventure Time and Dan Vs.
So, my impression so far? Give this show a watch. It's definitely worth your time, and you won't regret it.
Your Devoted Critic,
Kamacazi (Kazi) Koiwai