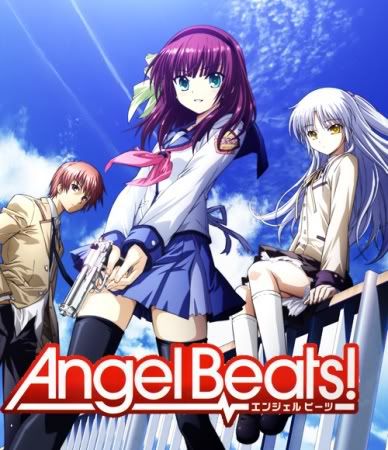 Angel Beats! takes place at a high school acting as a Purgatory, where students learn to give up any lingering attachments they still have from life before continuing to an afterlife or reincarnation. While the injury or cause of death are gone, those in the afterlife school can still feel pain or other things as they did when they were alive, as well as dying again, only to awaken with no injures several minutes later. The story follows the main protagonist Otonashi, a boy who lost his memories of his life after dying. Upon awakening in the afterlife, he meets a girl named Yuri who invites him to join the Shinda Sekai Sensen (SSS) (死んだ世界戦線?, lit. Afterlife War Front), an organization she founded and leads which fights against God for the cruel fates the SSS members experienced in life. Their only enemy in the world is the school's student council president Angel, a being with supernatural powers who fights against the SSS. Yuri believes that anyone who follows Angel's orders and behaves like a normal student at the school will eventually disappear and pass on. However, those who fulfill their dreams in the afterlife will pass on as well.
So Angel Beats (I series I was just about to write a review on) is now free to download for iTunes, well at least the first episode anyway. Angel Beats!, Season 1 – Download Angel Beats!, Season 1 on iTunes
EDIT: So I just watched it, I hate the voice "actors" if you can call them that. In the dub Yurippe sounds to much like a whinny teenager. She should have a more "I'm in charge" voice kinda like Haruhi's English voice actor. Also Angel's voice actor sounds really bored with the part shes playing. Angel in the original didn't sound bored so much as "personality-less", kind of like a robot.  Also they took one of my favorite things about her character out, that her voice echo's when she activates the guard skills. It's a minor thing I know but that was a really cool thing about Angel. My recommendation? Watch the sub.